PRENOTAZIONI ONLINE

La prenotazione è garantita: dovrete pagare solo il 10% della prenotazione come deposito; pagherete il rimanente direttamente all`arrivo presso l`hotel/ostello di vostra scelta.

Tutte le prenotazioni avvengono in real-time, sono sicure e garantite. La connessione avviene tramite protocollo SSL garantito da Thawte, world leader nella sicurezza delle transazioni con carta di credito.




Hotel Trojane

<!A href=javascript:openWindow('/image/2_0002440_1_big.jpg')>


Nome
Hotel Trojane

Categoria
hotel **

Recapiti
Trojane 27, 1222 Trojane







Camerata a partire da 18,00 EURO a letto per notte


Carte di credito
Prenotazioni Online
<!A href=javascript:openWindow('/image/2_0002440_2_big.jpg')>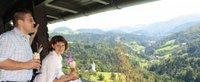 <!A href=javascript:openWindow('/image/2_0002440_3_big.jpg')>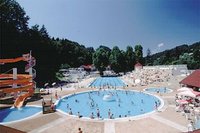 <!A href=javascript:openWindow('/image/2_0002440_4_big.jpg')>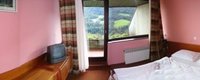 GREAT LOCATION! In the very heart of Slovenia. We are a 20 minutes drive away from Ljubljana yet only 1 minute from highway exit.WELCOME TO THE PLEASANT TAKE OFF POINT TO THE DREAMLAND OF SLOVENIA!!!The magnificent Lake of Bled, the mysterious Cave of Postojna, and beautiful Valley of Logarska are only one hour drive away. We are also near a winter sports centre - sport ski centre RTC Golte (1500 m altitude) is only a 25 minutes' drive from Hotel Trojane.We often organise daily bus transport for our winter group guests to the ski resort.Our hotel maintains a beautiful view towards the green hills of Zasavje and the Posavje Mountains and towards the Valley of Zagorje. Take in the view from the benches of our hotel terrace, garden, restaurant windows or from your own room's balcony.Authentic architecture and DELIGHTFUL SLOVENIAN CUISINE, exhibited details from the half-forgotten history of Slovenian life, the richness of wood and greenery. Enjoy a relaxing holiday!Rooms: A variety of single, double, triple, family rooms and apartments available. All rooms are private and en-suite. All prices also include breakfast. Family room consists of one double bed and two single beds. Apartments range from 3 bed to 4 beds. For your information: - we charge pets staying in hotel room separately - 8,00 EUR per night!- all state taxes are included in price, except local tourist tax, which we charge separately - 1,00 EUR per adult person, per night or 0,50 EUR per child from 12 - 18 years old, per night.
















Il contenuto di questo sito è da intendersi a scopo puramente informativo.
italian-hostels.com non garantisce nessuno dei contenuti pubblicati sul sito web.


www.italian-hostels.com

<!img src="ip2icons_small/.png" alt="" width="18" > webSolutions by Nereal srl p.iva IT08287760964