ONLINE BOOKING SYSTEM

The booking is guaranteed: you will only have to pay 10% of the booking as a deposit; the rest will be paid when you arrive at the hostel/hotel of your choice.

All bookings are in real-time, secure and guaranteed for the traveler. SSL connection is guaranteed by Thawte, world leader in Internet Security.




Walter Guest House

<!A href=javascript:openWindow('/image/2_0025277_1_big.jpg')>


Name
Walter Guest House

City
Italy / Rome

Category
guest house

Address
75 via Napoleone III,1st floor.







Shared room starting from 7,00 EURO per bed per night


Credit cards accepted
Online bookings
<!A href=javascript:openWindow('/image/2_0025277_2_big.jpg')>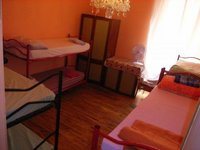 <!A href=javascript:openWindow('/image/2_0025277_3_big.jpg')>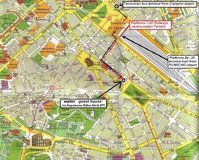 <!A href=javascript:openWindow('/image/2_0025277_4_big.jpg')>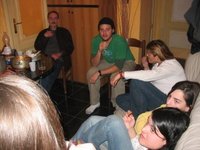 A beautiful apartment with bedrooms en-suite (private WC)or shared WC with all amenities that you need to have a great holiday in Rome. We arrange private bedrooms or beds in mixed-shared bedroom as dormitory. One big bathroom also for all in the corridor with bath-tub, so we offer to our guests as dormitory the avarage of 1 wc every 4 persons ,it's a record among the hostels in Rome downtown.---We also accept big groups of guests or more room reservations,so we accommodate our extra guests in another unit in the same management with shared or private WC located in the same the same area with the same facilities at the same price.Once our guests arrived here Napoleone III #75 ,our staff will provide your accommodation.---All our bedrooms are quiet and comfortable, even for senior guests in romantic trip in Rome downtown.BREAKFAST INCLUDEDGet up in the morning and and have a buffét of typical italian breakfast, with milk, coffee or tea, plumcakes,croissant, toasted bread, marmalade, honey, butter and chocolate cream NUTELLA. The staff will prepare it since early in the morning untill mid-day. LOCATION:Walter Guest House is 2 blocks off the main Station Termini, 10 minutes from all the main attractions, like the Colloseum, Piazza Venezia, TREVI Fountain, Spanish Steps and the Pantheon. The Vatican City is a little further down the road and you will have no problem as public transport is just under the house. For the night owls, we have a disco just a stones throw away, round the corner the main Basilica of Santa Maria Maggiore and if you want to forget your problems go and have a drink down at the many Irish pubs that are a stones throw away from the house. If you have problems sightseeing, we will try and get you infomation and tips for the day. Come stay at the HOME AWAY FROM HOME and enjoy being in Rome.FACILITIES:We give you: the door keys so there is no curfew. : free internet, : free use of the kitchen, : use of lockers cabinet, : use of washing machine, : free bedsheets and bath towels, : television into private bedroom,:3 bedrooms as dormitory provide the air-conditioner :dispenser of cool water and coffe,cappuccino,tea lemon,chocolate available all day long. KIND REQUEST:We like to have non-smoking people in the house as it is not permitted to smoke in public indoor places. Our management is proud to have finally in Italy a law against smoking, since the 10th of January 2005.TIPS:PS. If you like icecream, there is the oldest ice-cream parlour in Italy here in Rome which is about 400 yards turning right from the house, ice-cream lounge 'Fassi', where you can taste upto 250 flavours.--->Summer is starting and the fun is getting ready to go. Make a lot of friends at my house and have fun with the crowds as we are happy go lucky and we think the trip off a backpacker should be off making friends and having a good time in a place where everyone is here to have fun and enjoy their holiday, you get to see Rome once in a lifetime.CANCELLATION POLICY-It's allowed to cancel without penalty only until 48 hours before the date of check-in (12 AM ),if not we debit the first 2 nights of the stay.RECEPTION WARNINGS:To respect the staff and the guests sleeping, we are grateful if your first arrival is after around 8.00 AM in the morning untill around midnight 24 PM.No later please because we turn off the buzzer. If you cannot be here in the range of 8AM-24PM,you must at least inform us by phone call, we will ask you a tip of 10E per person for the night waiting.The next nights stay you will have the keys so you get back home as you like.CHECK-IN :is at 12 AM-(when is possible also earlier the room is ready to occupy).CHECK -OUT : is allowed until 11-12 AM,because we need to clean the rooms for the incoming guests.But is possible to leave the luggages at the reception untill you leave the house.PICK SERVICEWe can a cheap car service from/to both airports,Ciampino or Fiumicino,cheap of course compared with the other car services.Pls ask to Walter. --->Come join us and Walter, the innkeeper and his staff will make your stay worthwhile.Come have a fun time with us in Walter Guest House!!!!
















Disclaimer: all info and prices are included solely for the convenience of Users.
italian-hostels.com does not guarantee for any info reported on this website.


www.italian-hostels.com
webSolutions by Nereal srl p.iva IT08287760964